The Details
Size: 13"dia.
Materials: cotton, plastic, polyester
Care Instructions: Spot Wash with Damp Cloth
Sentiment: Grow slow little one... don't get big too fast! Make each precious moment last. More cuddles, more giggles, more time to play, cherish the fun in every day. Keep growing bigger and stronger... just stay little a while longer.
UPC: 638713565457
I rattle. Includes J-hook for hanging.
The Artist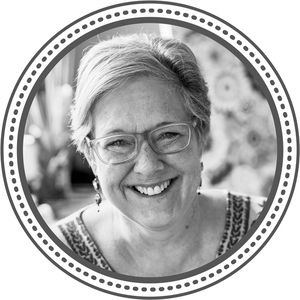 Lori Siebert
For artist Lori Siebert, creative inspiration is as close as her family. This focus on meaningful relationships is a common thread apparent throughout her collections. At the age of seven, Lori began taking art lessons and won a ribbon for her painti
ng at a local fair. From that day forward, art became an essential part of her life. Taking classes to expand her talent led to a degree in graphic design and opening her design firm, Olika Studio. Now, she splits her time between her home studio and
mentoring a growing number of talented designers at Olika Studio. With a mix of media from acrylics and watercolors to torn paper and clay, Lori's eclectic work spans sculpture, painting and illustration. Her designs feature unique materials and i
nspiring hand-lettered texts, and her influences include vintage quilts, her children's drawings and quirky folk asked to define her style, Lori says, "I like to be a bit of a chameleon. Experimentation with different styles and mediums feeds my i