The Details
Size: 4.5"w x 9"long
Materials: cotton, plastic, polyester, crinkly mylar paper
Care Instructions: Machine Wash, Hang to Dry
Sentiment: Love You.
UPC: 638713586698
Includes sensory fabrics, crinkly mylar paper, a loop to hold a pacifier, and a clip that attaches to any baby outfit. Pacifier not included.
Pacifier not included.
The Artist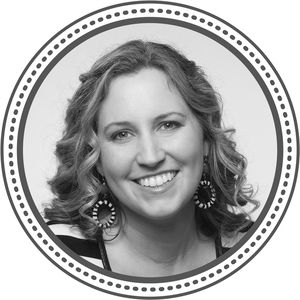 Jennifer Heynen
At age four, Jennifer received a child's Sew Perfect Sewing Machine. Her grandmother gave her a stack of fabric samples, and Jennifer jumped right in! Loving all things sewing, she worked at a fabric store in high school, and after taking a new art
class, fell in love with ceramics. Through her studies, she earned a fine art degree in ceramics and also developed her talents for textile design, illustrating and painting. Whatever the medium, Jennifer says, "I like to learn new skills and techni
ques and love the step by step process of crafting, figuring out what to do first, second, etc. It's a fun challenge." Like with painting, she also finds the meditative process of creating important. It's what lets the artwork flow. Jennifer be
lieves, as long as you're making, you're growing. She conveys this joy of discovery through her work. Above all, she threads her distinctive pieces with the humble intention of making people smile. When she's not chasing a dog, or driving her b